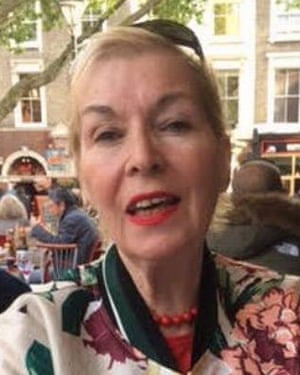 Nicholas Burton, paid tribute to his wife Maria del Pilar Burton, known as Pily, who died in January and was named as the 72nd victim on the eve of the opening of the inquiry.
He recalled meeting Pily at a disco. She was flamboyant, knew everybody, and loved dancing, Burton said. He thought she was out of his league because she was so much older.
Pily was born in the 1940s in Galicia in north-west Spain to a naval family, her husband said. She was brought up with the children of family friends who went on to become academics.
When the family moved to London she picked up in English quickly and spoke it without an accent.
She had son Victor, by her first marriage.
After her first marriage broke down Burton said he moved into Pily's flat "sock by sock". They were together for 34 years and enjoyed listening to Galician music together.
She also loved reggae music and danced to everything. Her parents treated Nicholas like a son. Her son Victor was a year older than Pily's new husband but accepted him into the family too.
Pily was big friends with Debbie Lamprell, who also died in the fire. The pair loved nattering together, Nicholas said. She knew everyone on Portobello market. "I don't know why she chose me, but we were never apart," Burton said.
"She had class and style, and just knew what worked," he added. "I loved my wife and was in complete awe of her. She wasn't a princess or anything. She was just a people person."
She worked as contract manager in hospitals around London, Burton said.
She was extremely proud of her son, her grandchildren and great grandchildren, he said. When she became sick the family nursed her together.
Burton was with her, holding her hand, when she died. Her brother was killed in road accident before her death. "I'm not sure she ever recovered," he said.
She suffered from dementia after the couple came back from a holiday. It was a terrible blow for her to give up work and not be surrounded by friends, Burton said.
The couple bought their flat in 1994 and were in a leasehold dispute with the council and the TMO during the refurbishment of the tower. This added to her stress, he said.
Nicholas and Pily were watching a DVD when the fire broke out. We had to wait to be rescued, he said. Pily was carried out by four firefighters. Burton was convinced she was dead, but said she "miraculously" survived. He was suffering from smoke inhalation and was in a panic about his wife who was being treated at the Royal Free in Hampstead. She was in a "terrible state" her body was "cut and bruised all over". The trauma had a terrible affect on her dementia. He said: our dog was gone and many friends were missing. Her parents ashes were also destroyed in the fire.
Burton had heart surgery after his injuries. He talked about the difficulty of nursing her when he was also suffering from the trauma of the fire. Pily had a stroke late last year and there was nothing doctors could do, he said.
Pily took her last breath as her son Victor entered her room. Burton said: "I am truly blessed that I had 34 years with such a person. It was wonderful. My wife used to tell me don't worry about it. She loved Bob Marley's Three Little Birds."
She was cremated in Ladbroke Grove. Firefighters laid white roses on her coffin. "There were hundreds of people there all wearing colourful outfits," he said.
Burton ended by saying:



She was a unique beautiful, exceptional person, that this tragedy has taken away. It took away her dignity, everything that we had in this world. But no matter what indignities my wife had to suffer, my Pily was perfect.
He then broke down in tears to applause from the inquiry.
Moore-Bick thanked him for his statement. He said: "That was a very moving tribute and I feel very privileged to have heard it."
The inquiry was then shown video footage and photographs of Pily.